Year 2016 Agricultural Supporting Quantity is Determined
Council of Ministers has determined the quantity of Agricultural Support; according to this, the producers will be given 11 Lira per 1000 m2 diesel support, organic agriculture support however, is fixed at the figures taken from one to fourth categorical production, and rates starting from 100 TL per 1000 M2; 70 TL, 30TL and 10 TL. Within the scope of this decision; producers will be given a support in difference per kilogram as follows; for wheat, barley, oat, rye and triticale 5 kurus, for sweet corn 2 kurus, for rice 10 kurus, for dried beans, chickpeas and lentils 30 kurus, for olive oil 80 kurus, for tea 13 kurus, for sunflower for oil producing 40 kurus, for cotton with core 75 kurus, for soya bean 60 kurus, for canola 50 kurus, for safflower 55 kurus.
In the decision; basis of supporting the farming, bee keeping, water products, certified seed usage and sapling production are also taking place.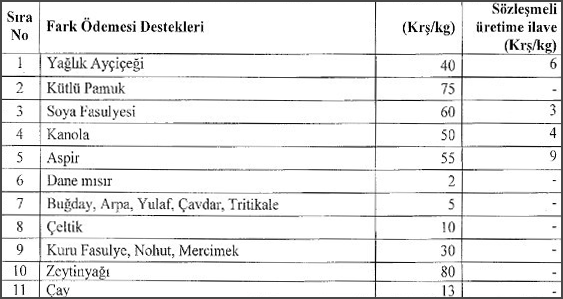 Source : Official News Paper dated 5 May 2016 and numbered 29703